5
minute read
Did you know California has more national parks than any other state? With a total of 9 national parks, California offers adventurers plenty of natural landscapes to explore. Whether it's visiting the forested areas of Sequoia or the coastal regions of the Channel Islands, no summer is complete without spending a day in the sun.
To help you decide which California national park is perfect for your summer getaway, we put together this guide highlighting the top characteristics of each. So, if you're ready, grab your hiking boots and let's explore!
California National Parks to Visit This Summer
1. Yosemite National Park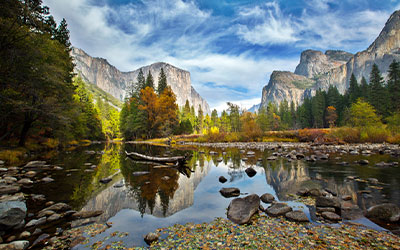 Starting our list is a national park that needs no introduction: Yosemite. Located in eastern central California, Yosemite National Park is home to some of the state's most famous natural landscapes, including Half Dome, El Capitan, and Yosemite Falls.
Yosemite's history begins in 1864 when California first recognized it as a state park. However, it wasn't until 1890 that the area was officially classified as a national park, becoming the 3rd in the United States behind Yellowstone and Sequoia.
Summer is one of the most popular times in Yosemite. Because of this, lodging and cabin reservations are typically fully booked months in advance. Although a permit is required to camp, you do not need a permit or reservation to visit the park for a day, only an entrance pass. Yosemite's entrance pass ranges from $20 to $35, depending on your vehicle. An annual entrance pass is also available for $70.  
Most facilities should be open during the summer, but be aware that the area can experience high temperatures in the 90s, especially during July and August.
Things to Do in Yosemite National Park During Summer:
2. Sequoia National Park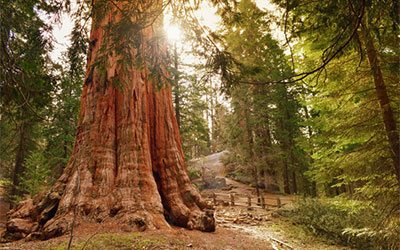 Sequoia National Park became California's first national park—and the Unites States' second—in 1890, just a week before Yosemite. Today, the national park receives around a million visitors annually from across the world.
When visiting, you'll marvel at the gigantic Sequoia trees that the park is named after. In fact, the park's General Sherman Tree is considered to be the largest living tree in the world by volume. At over 275 feet tall, General Sherman is around 2,200 years old and has a trunk that is roughly 100 feet wide.
Although one of the state's most popular parks, Sequoia doesn't receive the same number of crowds as Yosemite. However, we recommend booking a camping reservation in advance to guarantee your space. Consider staying at the Potwisha or Lodgepole Campgrounds when camping to be around most park attractions. To enter Sequoia National Park, you'll pay an entry fee that ranges from $20 to $30, depending on your vehicle.  
Unfortunately, many areas within the park suffered damage during the 2023 winter storms. However, according to the park's website, officials believe many areas will reopen by July.
Things to Do in Sequoia National Park During Summer:
3. Kings Canyon National Park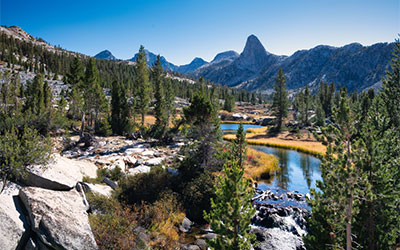 Next on our list is a park directly connected to Sequoia: Kings Canyon National Park. Known for its massive trees and the Kings River, Kings Canyon National Park became America's 26th national park in 1940.
Kings Canyon and Sequoia are technically two separate parks, but they're close enough to each other for visitors to explore within the same day. Kings Canyon is the larger of the two, but it typically has fewer visitors than Sequoia.
One of the park's major attractions is the General Grant Tree. Known as the Nation's Christmas Tree and the second largest tree on the planet, this tree stands 267 feet tall with a trunk width of nearly 30 feet. The General Grant Tree resides in the Grant Grove section of the national park, home to various other giant sequoias.
Things to Do in Kings Canyon National Park During Summer:
4. Lassen Volcanic National Park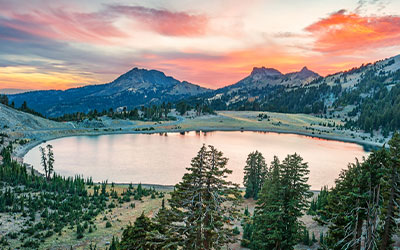 If the largest trees in the world don't catch your attention, how about volcanos?
Located on California's northeastern corner is Lassen Volcanic National Park, home to all four types of volcanoes in the world—composite, shield, cinder cone, and plug dome. The most recent eruption in the area was the Lassen Peak Eruption, which took place from 1914 to 1917. Although the area's volcanos have been in deep sleep as of late, experts still consider the site to be volcanically active beneath the surface.  
Due to its location, most of Lassen's campgrounds are closed during winter. However, campgrounds do begin opening up by mid-June after the snowmelt. With hot springs, rugged mountain peaks, and crystal-clear lakes, there is endless beauty to enjoy in Lassen Volcanic National Park. As a bonus, this destination isn't as popular as other parks on our list, so you won't have to worry about too many crowds.
Although the area was heavily damaged in the 2021 Dixie Fire, most of the park has reopened to visitors according to the National Park Service.
Things to Do in Lassen Volcanic National Park During Summer:
5. Redwood National Park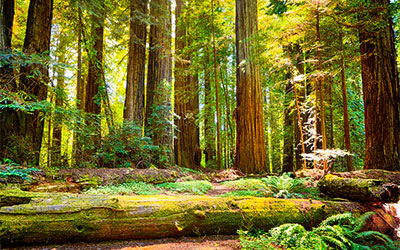 Redwood National Park is located 5 hours north of San Francisco. Despite how far it may be, the drive is worth it to immerse yourself in the park's massive redwood trees.
Redwood National Park is home to the world's tallest tree, known as Hyperion, which stands at a whopping 379 feet. These trees are much narrower than those found in Sequoia and Kings Canyon National Park, so although Hyperion is the tallest, it isn't the largest (by volume).
Redwood National Park is an excellent destination for exploring because of its connection to 3 smaller California state parks. Plus, due to its coastal location, summer temperatures in the area typically remain on the cooler side.
Things to Do in Redwood National Park During Summer:
6. Channel Islands National Park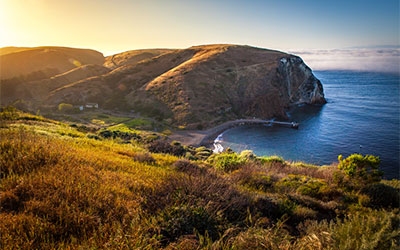 What screams summer more than relaxing on an island?
Channel Islands National Park is a chain of five islands located off the coast of Southern California. Unlike any other destination on our list, the Channel Islands are a remote natural environment home to animals you won't find anywhere else.
The five islands you can visit are Anacapa, Santa Cruz, Santa Rosa, San Miguel, and Santa Barbara, with Santa Cruz being the most popular.
To get to the Channel Islands, you'll first need to head toward Ventura and purchase a boat ticket from Island Packers, the official boat concessionaire for the Channel Islands. Day fares will cost around $31.50 each way or $40 if you plan to stay the night. Because there are limited to no amenities, you'll have to pack everything you need for the trip. Unfortunately, you can only find potable water at the Water Canyon Campground on Santa Rosa Island and the Scorpion Canyon Campground on Santa Cruz Island. To learn more about the camping restrictions, click here.
Things to do in Channel Islands National Park During Summer:
What About Pinnacles, Death Valley, and Joshua Tree National Parks?
Although California is home to 9 national parks, during summer you may want to avoid the 3 that experience extreme heat. Day temperatures can easily exceed 100 degrees at the Pinnacles, Death Valley, and Joshua Tree National Parks. If you do decide to trek towards any of these this summer, pack plenty of water, sunscreen, and shade protection to shield yourself from the hot sun.
Stay Protected No Matter Where You Go
As with any extended trip, ensuring your vehicle is in good shape is important to avoid any breakdowns or delays. Additionally, always review your auto insurance policy to confirm you have the proper coverage. Adding roadside assistance to your policy could come in handy if you experience any mechanical issues during your trip in a remote location. To learn more about the coverages available to you, give our insurance specialists a call at (888) 772-4247.
---
The information in this article is obtained from various sources and is offered for educational purposes. Furthermore, it should not replace manuals or instructions provided by the manufacturer or the advice of a qualified professional. No warranty or appropriateness for a specific purpose is expressed or implied.