4
minute read
As pet owners, you want what's best for your furry companions. And because they're a part of the family, it's tempting to take them wherever we go—including when on the road. Although seeing a pup stick its face out the window is adorable, the truth is that if you see this, it likely means the dog isn't properly secured in the vehicle. In a 2019 pet owner survey, researchers found that only 55% of respondents use restraints when driving with pets. Driving with your pet unrestrained or on your lap can quickly become dangerous for yourself, your pet, and other drivers on the road.
Is it Illegal to Drive with a Pet on Your Lap?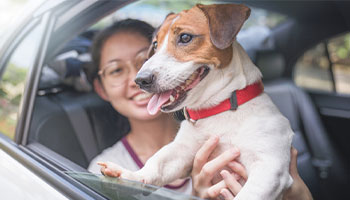 Driving with unrestrained pets is an easy way to get distracted while driving, which could lead to an accident. If your attention is on preventing your dog or cat from jumping around, you'll have little time to react to upcoming road hazards. But is it illegal to drive with a pet on your lap?
Currently, the only states that explicitly prohibit driving with a pet on your lap are Hawaii and New Jersey. In Hawaii, driving with a pet on your lap will result in a $97 fine. In New Jersey, the fine can range between $250 to $1,000. Although only two states have laws regarding driving with a pet on your lap, plenty of others have legislation related to unrestrained pets in vehicles. Plus, just because it isn't illegal doesn't mean it's safe to do.
Driving with Pets: State Laws to Know
Currently, no federal law prohibits drivers from riding with an unrestrained animal. However, some states have enacted laws that require drivers to restrain their pets in certain situations.
California – California requires drivers to restrain their pets if transported on a pickup truck's bed. However, no laws require pets to be secured inside the vehicle.  
Connecticut – Although Connecticut doesn't have explicit laws prohibiting driving with a pet on your lap, the state does have a strict distracted driving law applied to any non-driving activity while operating a vehicle. Connecticut also requires drivers to restrain pets in a crate when traveling in the back of a truck bed.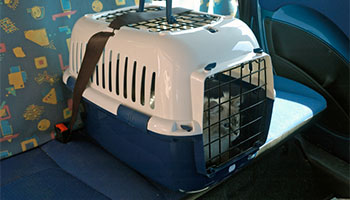 Hawaii – As mentioned, it is against the law to drive with a pet on your lap in Hawaii.
Maine – Maine drivers may risk fines driving with a pet on their lap due to the state's distracted driver laws. Additionally, pets must be restrained or in a crate when traveling in the back of a pickup truck or convertible.
Massachusetts – Similar to California, Massachusetts drivers must restrain their pets if transported on the bed of a pickup truck. Due to the state's distracted driver laws, you could face legal fines if it is determined that your pet interferes with your ability to drive safely.  
New Hampshire – New Hampshire requires pets to be restrained in a crate when traveling in an open-air vehicle or truck bed. However, the state recently introduced a bill that may bar drivers from having a pet on their lap.
New Jersey – New Jersey law requires pets to be restrained whenever traveling in a vehicle.
Rhode Island – It is unlawful to transport an unrestrained pet in an open vehicle in Rhode Island. When inside the car, pets must be under the physical control of a passenger other than the driver or secured with a harness.
Vermont – Vermont law prohibits transporting a pet in a cruel or inhumane manner, which is open to interpretation.
Safety Tips to Follow When Driving with a Pet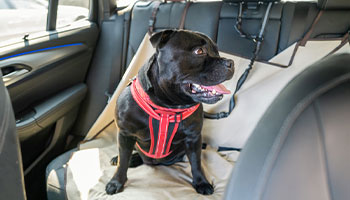 Practicing safe driving habits should always be your top priority, but especially when driving with a pet. Although you understand the basic laws that apply to drivers on the road, your pet doesn't.
To prevent any injuries to yourself or your pet, they should ride in the back seat of your vehicle while properly secured. In the event of an accident, keeping your pet in the back seat will prevent them from being injured by your car's airbags. Just like with children, the airbag's force can potentially cause severe injury or even death.
To secure dogs, a car harness that attaches to their regular vest or collar is ideal. When searching for a dog harness, choose one that allows your pet to comfortably rest in the back of your car. However, you don't want one that is long enough for them to move side-to-side. Also, although your pup may enjoy sticking its head out the window, doing so is a safety hazard as the dog may fall out, hit an object, or distract other drivers on the road.
For cats, it may be easier to get them to stay still by utilizing a secured pet carrier. However, cat car seat harnesses are available if your cat doesn't mind traveling outside a carrier. Just like dogs, cats should ride in the back seat of your car whenever possible. Although much smaller than some dog breeds, cats still face the same risks when unrestrained in a car.
Only consider pet harnesses that have passed crash tests to ensure they work as designed.
Keep Your Pet Protected with Personalized Pet Insurance
As a pet owner, you want what is best for their health. Unfortunately, unexpected vet visits can quickly become expensive—that's where pet insurance can help. AIS partners with Embrace to offer pet owners personalized coverage options for their furry companions. With multiple plans to choose from that offer head-to-tail coverage options, Embrace can fit within any budget. Start your quote online today or by speaking with an insurance specialist at (888) 772-4247.
---
The information in this article is obtained from various sources and is offered for educational purposes. Furthermore, it should not replace manuals or instructions provided by the manufacturer or the advice of a qualified professional. No warranty or appropriateness for a specific purpose is expressed or implied.