6
minute read
Ready, set, cook! With the big game just around the corner, it's the perfect time to plan out your game-winning spread filled with tasty eats. Although staples such as burgers and hotdogs are always welcomed, we're going big this Super Bowl and mixing things up a bit. To keep your guests fed through the final quarter, we put together this list of Super Bowl recipes that are certified crowd favorites.
Super Bowl Recipes for the Big Game
1. Pigs in a Blanket
A good Super Bowl spread understands the importance of appetizers and finger foods. With so much excitement on the screen, it's hard to take your eyes off the action at times. Kicking off our Super Bowl recipes list is a quick and easy appetizer that only requires two main ingredients: pigs and a blanket.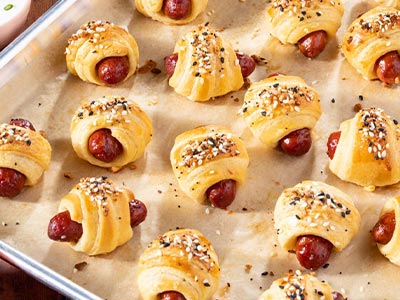 Ingredients:
8-ounce can of crescent roll dough
14-ounce package of cocktail-sized smoked sausages
1 large egg
Everything bagel seasoning (optional)
Instructions
1. Begin by preheating your oven or air fryer to 375F. Next, open the can of dough and unroll it on a lightly floured surface to prevent sticking. Cut each dough triangle into three smaller triangles.
2. Pat the smoked sausages dry then place one sausage on the wide end of 1 small triangle. Next, roll the sausage toward the narrow end of the triangle, allowing the dough to overlap and wrap around the sausage. Place the rolled sausage point side down on a baking sheet with parchment paper. Repeat this step for the remaining sausages.
3. Whisk together an egg with a splash of water in a small bowl to create an egg wash. Brush the egg wash over each pig in a blanket and top with a sprinkle of everything bagel seasoning.
4. Bake until dough is puffed and golden brown, or for around 12 to 15 minutes. Serve with your favorite dipping sauces and enjoy!
Prep time: 10 minutes | Cook time: 15 minutes | Serves: 6 – 8
2. Spinach Artichoke Dip
If you haven't made a spinach artichoke dip before, be prepared to welcome in a new favorite. Not only is this dish super delicious, it's also incredibly easy to put together. Filled with flavor and cheesy goodness, you'll be coming back for seconds…and thirds.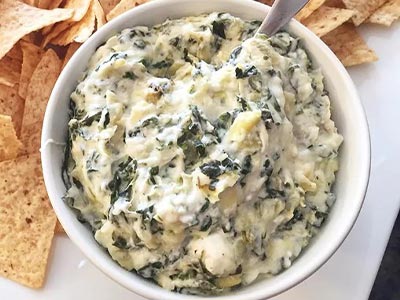 Ingredients
14-ounce can of artichoke hearts, drained and chopped
½ cup of frozen chopped spinach, thawed and drained
8-ounce package of cream cheese (softened)
¼ cup of mayonnaise
¼ cup of grated Parmesan cheese
¼ cup of Romano cheese
¼ cup of shredded mozzarella cheese
1 large garlic clove, minced
Salt and pepper to taste
Instructions
1. Preheat oven to 350F and lightly grease a small baking pan.
2. In a medium bowl, mix together cream cheese, mayonnaise, Parmesan, Romano, minced garlic, salt and pepper. Once combined, gently stir in artichoke hearts and spinach.
3. Transfer the mixture to your baking pan and top with mozzarella cheese. Bake in the oven until the top is bubbly and lightly browned, or for around 25 minutes.

4. Remove from oven and enjoy. Serve with potato chips, pita bread, or veggies.
Prep time: 15 minutes | Cook time: 25 minutes | Servings: 12
3. Bacon-Wrapped Jalapeno Poppers
Looking for recipes that will bring some heat to your Super Bowl party? We got you covered. These bacon-wrapped jalapeno poppers deliver non-stop creamy, spicy flavors with each bite.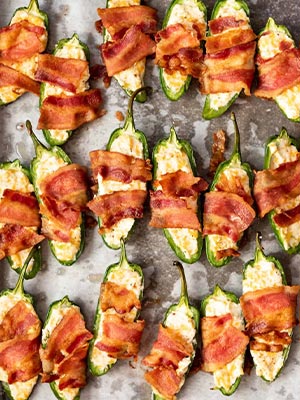 Ingredients
12 slices of bacon, cut in half
12 large jalapenos, sliced in half lengthwise with insides removed
8-ounce package of cream cheese softened
1 cup of shredded cheddar cheese
½ tsp garlic powder
Salt and pepper to taste
Instructions
1. Preheat your oven to 400F. Line a sheet pan with foil and lay down the bacon slices (without overlapping). Partially bake for 5 to 10 minutes. Remove bacon from the baking sheet and set a wire rack on top. Spray the wire rack with cooking spray.
2. While bacon is cooking, slice jalapenos in half lengthwise and remove the insides using a spoon.
3. In a medium bowl, mix cream cheese, cheddar cheese, garlic powder, salt and pepper. Using a spoon, spread the cream cheese mixture into each jalapeno half (do not overfill).
4. Wrap each jalapeno with a ½ slice of bacon, using a toothpick to secure in place. Place jalapeno poppers on the wire rack.
5. Bake for 20 to 25 minutes, or until bacon is crispy and cheese is melted. Remove from heat and serve.
Prep time: 15 minutes | Cook time: 25 minutes | Serves: 12
4. Grilled Tri-Tip Steak Sandwiches
It wouldn't be a Super Bowl recipes list without a grilling option. These grilled tri-tip steak sandwiches are a personal favorite of ours…and once you try them yourself, you'll understand why.
Ingredients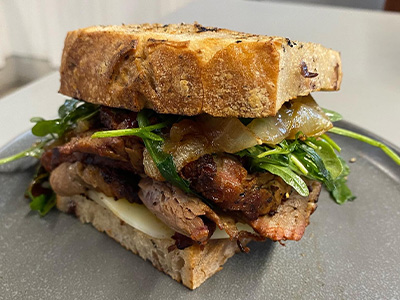 3 pounds of tri-tip
8 ciabatta bread rolls (or thick sourdough)
Provolone cheese
4 jumbo yellow onions
4 tablespoons of butter
Salt and pepper 
1 package of washed arugula
¼ cup of olive oil
Your favorite steak seasoning rub
Your favorite BBQ sauce
Instructions
1. Begin by coating the tri-tip with your favorite steak seasoning, then cover it with plastic wrap and place it in the fridge for at least an hour. Remove and let sit at room temperature for 30 minutes before transferring it to the grill.
2. Heat grill to 500F. Once hot, sear all sides of your tri-tip over direct heat for 3 to 5 minutes.
3. After searing, reduce the grill to medium heat and finish cooking tri-tip over indirect heat until the steak's internal temperature reaches 130F, or for approximately 20 to 25 minutes.
4. While the tri-tip is cooking, caramelize the onions. Thinly slice your onions and transfer them into a skillet alongside the olive oil and butter. Cook and stir until onions change in color and appear somewhat transparent. Turn off the heat and set aside.
5. Once the tri-tip reaches the correct temperature, remove from heat and let it rest for 10 minutes. Cut the tri-tip into thin slices (across the grain) and prepare for assembly.
6. In a small bowl, lightly coat washed arugula with a drizzle of olive oil and season with salt and pepper.
7. To assemble the sandwich, begin by toasting your bread. On the bottom bun, add some BBQ sauce if desired and top with thinly sliced tri-tip. Next, add a slice of provolone cheese followed by the caramelized onions. Finish by adding arugula and the top bun.
Prep time: 1 hour | Cook time: 40 minutes | Serves: 8
5. Grilled Lemon Pepper Chicken Wings
If we're talking about football eats, it's impossible not to mention chicken wings. Truthfully, you can marinate these however you like, and the cooking process will be the same. Oh, and if you ask us, drums are superior.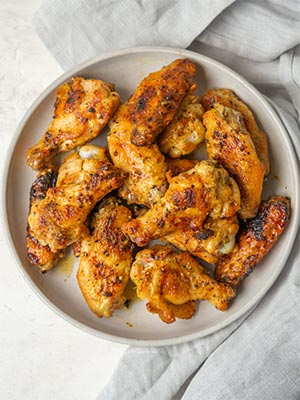 Ingredients
2 pounds of chicken wings
¼ cup of melted butter
2 tsp of salt
1 tsp of garlic powder
2 tsp black pepper
2 tbsp of lemon juice
1 tsp of lemon zest
1 tsp of Dijon mustard
Instructions
1. Pat wings dry using a paper towel and preheat the grill to medium-high heat.
2. Combine salt, garlic powder, and 1 tsp of pepper in a small bowl. Next, add wings to the seasoning mixture to coat.
3. Place wings on the grill. If too many flames flare up, reduce heat slightly. Cook wings for 15 to 20 minutes in a closed grill while rotating every 3 minutes (helps prevent skin from burning).
4. Remove wings from the grill once they reach an internal temperature of 170F.
5. In a small bowl, combine melted butter, lemon juice, lemon zest, Dijon mustard, and 1 tsp of pepper. Toss warm wings into the sauce. Plate and enjoy.
Prep time: 15 minutes | Cook time: 20 minutes | Serves: 4
6. Cheeseburger Sliders
It's the big game, so all eyes are going to be glued to the screen. We like to serve sliders instead of traditional burgers at our cookouts to prevent the chef from missing any of the action.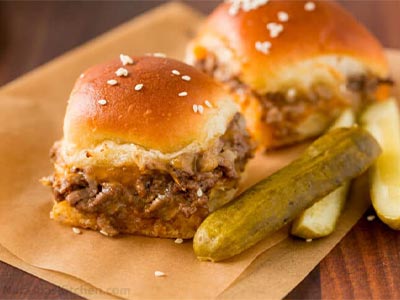 Ingredients
2 pounds of ground beef
24 dinner rolls
12 slices of cheddar cheese
½ large onion, finely diced
1 tsp of salt
1 tsp of pepper
1 tsp of garlic powder
2 tbsp of melted unsalted butter
1 tbsp of sesame seeds
½ tbsp of olive oil
Instructions
1. Preheat your oven to 350F and grease the bottom of a rimmed baking sheet.
2. Place a large skillet over medium/high heat and add olive oil. Once the oil is hot, add in the diced onions and ground beef, using a spatula to break the meat apart. Season with salt, pepper, and garlic powder. Continue to cook until the beef is fully cooked through.
3. Cut your dinner rolls in half. Place the bottom half on the greased baking sheet and line the bread with sliced cheese. Next, evenly spread the ground beef mixture over the cheese. Cover beef with any remaining slices then place the top buns (cut side down) over the burgers. Brush the tops with melted butter and sprinkle over sesame seeds.
4. Bake at 350F for 12 to 15 minutes, or until cheese is melted and buns are golden brown.
Prep time: 8 minutes | Cook time: 25 minutes | Servings: 24 sliders
Basic Fire Safety
Whenever working with fire, it's important to follow a few safety guidelines. If you're grilling for the big game, be sure to clean your grill to prevent hazardous fires. Check out these tips on how to clean your grill properly before each use. For more recipes and celebration tips, head over to our holidays and recipes section for more inspiration.
---
The information in this article is obtained from various sources and is offered for educational purposes. Furthermore, it should not replace manuals or instructions provided by the manufacturer or the advice of a qualified professional. No warranty or appropriateness for a specific purpose is expressed or implied.