3
minute read
Electricity is what makes our modern world possible. With over 71,000 electricians employed in CA, it's no doubt that being an electrician is a lucrative and rewarding career path. If you are interested in this line of work, you'll need to complete several steps including passing an exam, gaining on-the-job experience, and obtaining the proper insurance. Follow our guide to learn more about becoming an electrician in California and the types of insurance you may need.
California Licensing Requirements for Electricians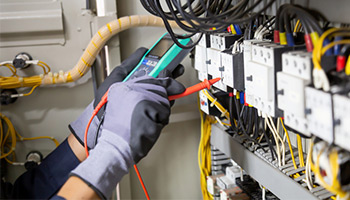 To work as an electrician in California, you must be certified and licensed. There are five different types of electricians. You can become a general electrician, residential electrician, fire/life/safety technician, voice data video technician, or non-residential lighting technician. Electricians who wish to operate as an independent contractor are required to have a C-10 license issued by the Department of Consumer Affairs, Contractors State License Board before bidding on any projects worth $500 or more.
7 Steps To Becoming an Electrical Contractor
1. Register as an electrical trainee. Submit an electrician trainee application, check for $25, and proof that you are enrolled in an approved school to the DIR.
2. Enroll in a state-approved training program. Complete at least 720 hours of electrician instruction from an approved trade school/apprenticeship program.
3. Acquire the necessary years of experience. Gain the required work experience as a journeyman, foreman, supervising employee, or owner-builder. See below for the required number of hours needed for each type of electrical licensure.
4. Pass the residential electrician certificate and licensing exam. Apply to take the CA residential electrician certificate exam. Once you obtain your certificate, you must renew your certificate every three years.
| Types of Electrical Licensure | Required Hours |
| --- | --- |
| Non-Residential Lighting Technician | 2,000 |
| Fire/Life/Safety Technician | 4,000 |
| Voice Data Video Technician | 4,000 |
| Residential Electrician | 4,800 |
| General Electrician | 8,000 |
5. Earn a general electrician certificate. After completing at least 8,000 hours under the supervision of a certified electrician, submit an application to take the general electrician exam.
6. Register for an electrical contractor license. Obtain a C-10 contractor license through the CA Contractors State Licensing Board. This will enable you to run a business as a contractor and hire electricians.
7. Get proof of insurance. When applying for a C-10 contractor license, you must provide the CA State Licensing Board with a filed $12,500 bond and proof of workers' compensation insurance if you are hiring employees.
Types of Insurance You Need As An Electrician
You may need a few typical insurance coverage when working as an electrician. The insurance coverages below can help protect you and your business from accidents, injuries, and damages to your vehicles or properties. Legal claims are expensive and with your reputation on the line, they can cost you a client or two. So, what kind of business insurance do you need and what does it cover? Here's a guide:

Business Owners Insurance. Commonly referred to as a business owner's policy (BOP), this policy combines general liability insurance with coverage for your business's property and income when your company has been interrupted due to a covered claim.
General Liability. Most electrician businesses should have general liability coverage to protect against work-related injuries or property accidents.
Commercial Property. Commercial property insurance provides coverage for damaged, vandalized, or destroyed property that you own or rent.
Business Interruption. This coverage helps pay the lost income and extra expenses of operating while your company rebuilds.

Professional Liability Insurance. Also referred to as errors and omissions, this insurance coverage protects your business from the cost of faulty workmanship claims.

Workers' Compensation. All California electrical contractors must obtain workers' compensation insurance to secure and maintain their contractor license. This insurance provides wage protection and coverage for medical expenses if you or your employees are hurt on the job.

Commercial Auto. Most electricians need commercial auto insurance to cover costs related to accidents when driving for work. Covered expenses may include theft, vandalism, towing, repairs, and rental reimbursement.

Tools and Equipment. Tools and equipment insurance gives you coverage for repairs and replacements if something happens to your work gear, like theft or damage.
Cost of Electrician Insurance
A majority of insurance companies will offer you a package deal for the coverage you are looking for. The cost of these insurance bundles varies depending on a few factors such as:
The size of your business
Location of business
Gross income
Number of employees on the payroll
Years of experience
Why Do Electricians Choose AIS?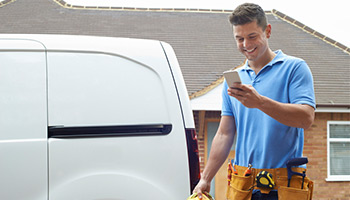 Small business insurance is one of our specialties and we're dedicated to helping you find the best protection for your company. We have helped electricians plan ahead for their financial futures and be more prepared for whatever comes their way. Speak with one of our Commercial Insurance Specialists today at (855) 919-4247 for a quick and easy free quote.
---
The information in this article is obtained from various sources and offered for educational purposes only. Furthermore, it should not replace the advice of a qualified professional. The definitions, terms, and coverage in a given policy may be different than those suggested here. No warranty or appropriateness for a specific purpose is expressed or implied.