3
minute read
If you've just purchased — or are considering buying — a travel trailer, you're certainly not alone in wondering about travel trailer insurance. RV travel has become increasingly popular among several generations. Millennials and Gen X'ers are discovering that owning a travel trailer is a fun and affordable way to vacation with all of their bicycles, kayaks, and pets. Don't forget the boomers, though. Every 7 seconds, another Baby Boomer in this country turns 50, and this age group is the fastest-growing purchaser of RVs in the U.S.
Regardless of your generation, travel trailer owners are finding that these versatile vehicles allow them to have new experiences, see historic sites, and maintain a flexible schedule. Most people consider a travel trailer an investment, so you'll want to make sure that your purchase is protected. RV insurance of some type is also required in every state. Here is what you need to know about coverage for your travel trailer so that you can seek out the best insurance quotes.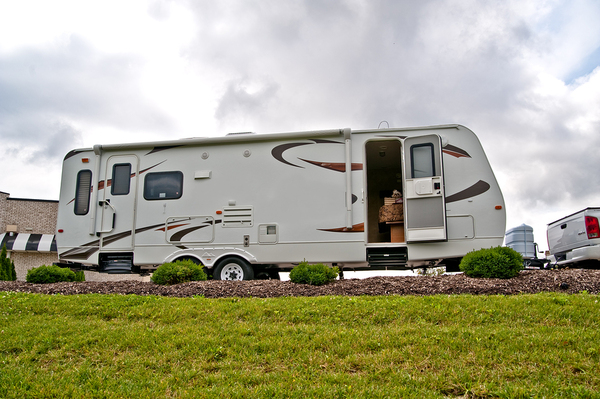 Why You Need Travel Trailer Insurance
According to numbers released by the RV Industry Association, approximately 8.5 percent of U.S. households now own RVs. This is up from just 8 percent in 2005. While you don't need to be affluent to own a travel trailer, the assumption is that you can pay for the cost of ownership. This means that you'll be able to buy additional fuel, pay for storage if necessary, and carry the proper insurance coverage.
Travel trailer insurance is required by law, and a regular auto insurance policy is not sufficient to cover most RVs and travel trailers. To properly cover a travel trailer, you need a combination of liability and property coverage. In most cases, you will still have some choices to make about coverage types before you get some insurance quotes.
Types of Travel Trailer Insurance Coverage
At the very minimum, you'll need liability insurance to be legal. Basically, it's required that you have insurance that will pay for damages if you cause a crash, property damage, or injury to someone else while operating your travel trailer. Most carriers include liability for trailers in the basic auto policy, but there are exclusions. Most people, however, opt for more comprehensive coverage.
In addition to liability coverage, you'll likely want some coverage to protect against the damage or loss of your travel trailer. You can obtain "total loss replacement" or "agreed value coverage" for that purpose. Other coverage that you can purchase include emergency lodging assistance, in case you need it while away from home, and campsite/vacation liability coverage to protect you while you are stationary. Also, if you are using your travel trailer full-time as a primary residence, you'll need a specific type of coverage.
Tips to Obtain the Best Insurance Quotes
Travel trailers are a fantastic way to see the country and experience the great outdoors at little cost. However, they must be insured. Rates depend on many factors, so the best way to choose the right policy is to ask for several insurance quotes. Depending on where you live and your circumstances, you may also qualify for some attractive discounts. Contact us to get started today and learn about our insurance discounts here.
---
The information in this article was obtained from various sources. This content is offered for educational purposes only and does not represent contractual agreements, nor is it intended to replace manuals or instructions provided by the manufacturer or the advice of a qualified professional. The definitions, terms, and coverage in a given policy may be different than those suggested here and such policy will be governed by the language contained therein. No warranty or appropriateness for a specific purpose is expressed or implied.