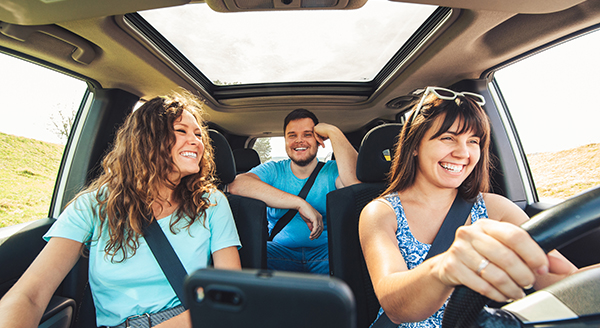 Frequent drivers and those who have valuable cars are typically recommended to include additional coverage on their standard Auto Insurance policy. This may include Collision and Comprehensive coverage, as well as Gap Insurance. It all depends on your financial situation. However, another important optional add-on coverage to consider is Roadside Assistance. This coverage protects you when your car breaks down, runs out of gas, has a flat tire and more. Roadside Assistance also offers additional services if you are involved in an accident. In fact, different Auto Insurance companies different benefits to go along with their Roadside Assistance plans. Read on to see which company provides you with the coverage that fits your needs.
Insurance Companies With the Best Roadside Assistance Services
Road America
This plan is offered by AIS Insurance and gives customers peace of mind if they are ever stranded and in need of fuel, tire repair or minor mechanical assistance. Road America also features rental car and hotel discounts, customized trip routing services and emergency message relay capability. It is a perfect option for residents of California.
Mercury Roadside Assistance
Mercury Insurance's Roadside Assistance service offers all of the basics, from emergency towing and tire changes to fuel delivery and winching capability.
OnStar FMV
This plan is renowned for enabling drivers to speak with an OnStar representative with the push of a button in their car. The company also utilizes the latest technology in their Roadside Assistance infrastructure. It's one limitation is that it's only available in General Motors vehicles.
National Roadside Assistance
This provider is preferred by many travelers who drive in Canada in addition to U.S. Its main selling point is a personal concierge service, which helps people with everything from travel planning to cash transfers to gift delivery. Note that National does not offer Roadside Assistance for recreational vehicles.
National Motor Club
NMC has been around for well over a half century. Its perks extend well beyond Roadside Assistance to include emergency reimbursements and medical savings plans. It offers a wide array of plan choices and extras, but its main drawback is a lack of online assistance with basic sales inquiries.
Auto Road Service
This service covers all of its Roadside Assistance bases. Additionally, ARS offers members access to Exxon/Mobil's Travel Guide and a trip planner from FreeTrip.com. ARS covers RVs and motorcycles in addition to passenger vehicles.
Good Sam Roadside Assistance
Good Sam caters mainly to RV owners. Along with their Roadside Assistance coverage, they provide a RV Technical Assistance Hotline. The other advantage Good Sam offers is coverage in Mexico, Puerto Rico and the U.S. Virgin Islands. Its no-frills approach does not include travel planning services.
Best Roadside Service
In addition to concierge and travel planning services, Best boasts a 30-minute on-time arrival guarantee for Roadside Assistance. The coverage is tied to a vehicle, not the person driving it, which is advantageous for families. However, the company does not provide travel interruption compensation if your vehicle needs repairs.
Better World Club
The market niche for BW is eco-friendly consumers. So, the company provides coverage for bicycles as well as vehicles. Also, BW donates a percentage of its profits to environmental causes. Keep in mind that BW's Roadside Assistance plan only covers a primary member. That means you'll have to add others at an additional cost.
Paragon Motor Club
This company's Roadside Assistance service rivals that of any of its competitors. It includes fluid delivery and minor mechanical adjustments. Customers can also receive perks like stolen vehicle reimbursement and discount coupons and maps, but only if they purchase the premium plan instead of the basic one.
AAA
With over a century of experience, AAA has built the biggest Roadside Assistance network in the U.S. The group's affiliations extend to the hotel, car rental and even shoe industries. It has a plan for just about any driver, but everyone must pay a signup fee to join AAA in addition to purchasing their choice of coverage.
BP Motor Club
This company's combination of Roadside Assistance and travel planning services sets the gold standard in its industry. BP extends its coverage into Canada and Puerto Rico, which may benefit you. It also has a long list of features including rental car discounts and legal fee reimbursement. However, it is one of the most expensive plans available.
Allstate Motor Club
Backed by Allstate Insurance, this coverage is arguably the best in the business. Its crown jewel is a GPS-enabled mobile app that pinpoints your precise location for Roadside Assistance. Although it doesn't offer emergency travel assistance, it does give customers trip-planning tools, a 30-minute on-time arrival guarantee and discounts on lots of products and services.
Which Roadside Assistance Program Is Right For You?
Clearly, there are many options for Roadside Assistance available to you. Luckily, this means you can choose the unique service that best fits your needs. No option is exactly the same, so evaluate the services and select the one that's right for you. If you need some assistance, speak with an Insurance Specialist at (855) 919-4247.
---
This content is offered for educational purposes only. The definitions, terms, and coverage in a given policy may be different than those suggested here. Such policy will be governed by the language contained therein, and no warranty or appropriateness for a specific purpose is expressed or implied.