3
minute read
A handyman is like a human Swiss Army knife. They're able to tackle a variety of projects and fix almost anything. However, their broad scope of work may put them and others in moderately dangerous predicaments. Therefore, Handyman Insurance is a coverage worth considering.
What is Handyman Insurance?
Handyman Insurance is best known as General Liability Insurance, which is often combined with a variety of other Business Insurance coverages available. Handymen, especially those who are licensed, can think of themselves as a one-person business. Any business is better protected with the right Business Insurance and General Liability is the most basic, fundamental coverage that protects a business against claims.
What Does General Liability Cover?
For handymen, General Liability covers claims made on bodily injury, property damage and lawsuits. It's important to know that coverage only extends up to the noted policy limits, such as $1 million per incident. Here's an overview and example of each type of coverage: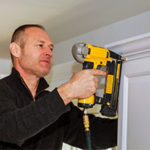 Bodily Injury. If you're found to be legally liable for an injury, this covers the claim and related medical expenses.
Example: You're installing crown molding in a house. The homeowner's daughter walks through your work area, trips over your air compressor hose and tears a ligament in her knee. You realize your work area was messier than usual because you were rushing, and now you might have an injury claim to deal with.
Property Damage. This coverage protects you if there is damage to the property of others as a result of your work.
Example: You're at your worksite unloading materials from your truck. Then, a 4X4″ wood stud slips out of your hand and breaks an expensive front window. The homeowner sees the damage and is irritated at the incident. However, they're glad that you're insured for accidents like this. Your reputation and wallet are safe.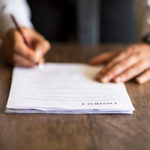 Legal Expenses. Lawsuits can result from many scenarios. They can be an unintended consequence of your work or perhaps a claim made in bad faith by your customer.
Example: You're sued, as well as responsible for lawyer's fees and court expenses. Luckily, General Liability helps you cover these expenses.
How Much Is General Liability?
On average, a handyman can expect to pay about $1,000 for a 12-month policy. That comes out to about $83 per month. Of course, this premium may be lower or higher depending on several factors. A few factors being state of residence, type of work you do, revenue, previous claims, amount of coverage desired and more.
It's important to shop around to find competitive Handyman Insurance rates. Additionally, you can take advantage of agents like an AIS Business Insurance Specialist. They work with handymen and businesses to compare prices and coverage from many carriers.
Do I Need General Liability Coverage?
Having General Liability as a handyman is important. You may feel that your current exposure doesn't yet warrant the expense of an insurance policy. However, one loss can be so devastating that it forces your new venture out of business regardless of size. Some carriers provide quotes based on gross sales. This means a handyman looking for insurance won't have to pay a lot to start a policy. However, you want to be sure to check the regulations in your state. Also, taking on specific jobs may require you to have insurance—"such as at schools and apartment buildings, for example. In addition, it's wise to be adequately insured when working on projects like electrical or plumbing as these jobs are more delicate.
Additional Tip:
Handymen rely on their vehicles not only for transportation but also for storing their tools and equipment. Consider a policy for Business Auto. Insuring your vehicle for business use may cost you the same as regular Auto Insurance for personal use. However, it can offer you much better protection. In fact, your tools and equipment may also be covered in case of a loss. Speak with one of our Commercial Insurance Specialists today at (855) 919-4247 for a quick and easy free quote.
---
The information in this article is obtained from various sources. This content is offered for educational purposes only and does not represent contractual agreements. No warranty or appropriateness for a specific purpose is expressed or implied.