4
minute read
Have you ever heard of boondocking? Well, it's a popular form of free camping for RVers. Boondocking is similar to dry camping, but in a remote location. You basically take your RV out into the wilderness with no amenities except those provided by your motorhome, camper or trailer. However, these hidden gems are sometimes hard to find.
If boondocking sounds fun to you, check out the free boondocking destinations below to truly immerse yourself in nature.
Cook's Chasm — Oregon
This destination is a simple pull-out on the side of the road, but the magical views and the tranquil sound of the ocean waves make it totally worth it. For especially unique sightseeing, head to Cook's Chasm to see Thor's Well, an unusual seawater sinkhole. Then see if you can spot Spouting Horn, a gushing ocean geyser. Both are magnificent sights to behold and free to view at your leisure.
Loy Butte Road — Arizona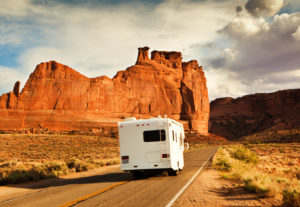 The Grand Canyon may be the first Arizona destination that comes to your mind, but this state has over 200 free camping spots for you to explore. That's what makes Arizona such a great place to go boondocking. One of our favorite spots is Loy Butte Road, where you can discover dreamy desert landscapes and one-of-a-kind red rock formations. Head toward Sedona to Coconino National Forest and park your RV under the stars. During the day, you may be lucky enough to see some hot air balloons float over the valley.
Valley of the Gods — Utah
With its beautiful wide-open spaces and intriguing natural landscapes, Utah is a great place to go exploring in the great outdoors. The Valley of the Gods makes for a wonderful boondocking destination because of its easy access of Hwy 163 and epic sunset views. Not to mention the fact that you'll probably get a good parking spot away from other RVers since there's so much open land in the area. If you have time, also visit Monument Valley and Natural Bridges National Monument which are nearby.
Clark Dry Lake — California
Many people assume that California is too expensive and too crowded for affordable RV camping. In many cases, that may be true. However, Clark Dry Lake is a boondocking hidden gem located in Anza Borrego State Park and it's definitely worth the trip. The area is popular for its colorful wildflowers that bloom in the spring, but there's so much more to see here! There are badlands, canyons, trails and more that you can enjoy away from any crowds. The area is vast enough to find a beautifully secluded parking spot and take in that golden California sunshine.
Blankenship Bridge — Montana
If you have a travel trailer or camper, then this boondocking spot is perfect for you. That's because anything bigger, like a Class A motorhome, will have a difficult time accessing Blankenship Bridge. It's located near Columbia Falls and Glacier National Park, making it a great free camping location with breathtaking scenery right along the riverbed. During peak visitor season at the National Park, the area can get crowded. However, it's still an enjoyable place to park your RV no matter what time of the year you visit.
Twin Lakes View — Colorado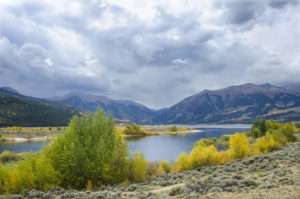 Colorado is one of the top states for free camping, so it's no wonder it's great for boondocking in your RV. You can head to Twin Lakes View in the heart of the state for one of the most scenic boondocking destinations. Take in the epic views of the Twin Lakes against a stunning mountain backdrop, which are the most striking on a clear summer day. Keep in mind that the weather here is sometimes unpredictable so you'll want to wear layers.
Boondocking Tips To Keep In Mind
Boondocking is free of charge, a chance to unplug and the perfect opportunity to explore a new location. So, it's no wonder that so many RVers love to do it. However, there are a few things you should remember whenever you go on a boondocking trip. The 5 tips below will help you stay courteous to others, ensure your safety and keep each destination you visit in pristine condition.
1. Practice RV Etiquette
At any place you go camping, it's important to make sure you're always courteous of fellow campers. Never park too close to another RVer, keep your noise level to a minimum after sundown, clean up after yourself and always put out campfires correctly.
2. Respect Wildlife
Boondocking takes place in the wilderness, but don't disturb the wildlife! Never leave out food or trash that may attract animals and insects. Don't try to pet or touch any animals. Always photograph wildlife from a safe distance.
3. Conserve Water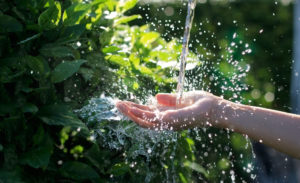 You won't have any amenities outside of what's in your RV when you're boondocking. That makes water one of the limited resources while you're out in nature. Since you can really only boondock until you run out of fresh water, learn how to conserve it as much as possible. You can save water by taking short showers, using wet wipes and catching dishwater in a tub to use it to flush the toilet.
4. Leave No Trace
It's very important that you leave everything in the wilderness as you found it. That means not leaving behind any trash or food. Keep in mind that you'll have to haul out any trash you make while boondocking because there's no way to dispose of it properly in Mother Nature. It's best to keep your trash to a minimum.
5. Be Prepared
Remember that anything can happen in the great outdoors.  That includes accidents, injuries and other mishaps. Some essentials you should always keep in your RV include a first aid kit and emergency roadside tools.
RV Insurance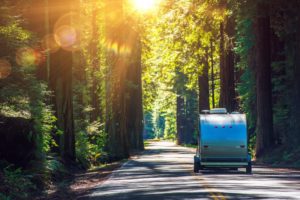 Another essential you'll need before going boondocking is RV Insurance. Your standard Auto Insurance policy will not adequately cover your RV. Make sure you're protected in case of an accident by speaking with an Insurance Specialist at (855) 919-4247. RV Insurance can be inexpensive while providing great coverage, but you may need some help from an agent to find the best rate. That's what we're here for, so give us a call today before going on your boondocking adventure.
---
The information in this article is obtained from various sources. This content is offered for educational purposes only and does not represent contractual agreements, nor is it intended to replace manuals or instructions provided by the manufacturer or the advice of a qualified professional. The definitions, terms, and coverage in a given policy may be different than those suggested here. No warranty or appropriateness for a specific purpose is expressed or implied.