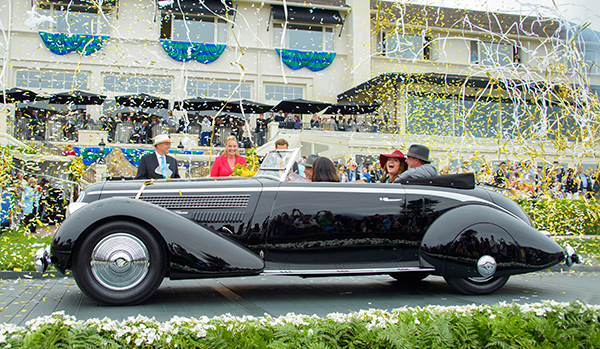 If you own a spectacular vehicle worth hundreds of millions of dollars, Pebble Beach, California is where you need to be from August 21-26. It's also the place to be if you want to just see these rare beauties up close. There are many events and forums during the week, even automotive-inspired artwork, to keep you entertained if you're looking for an end-of-the-summer getaway full of gorgeous cars.
History of the Pebble Beach Concours d'Elegance
The Concours d'Elegance first began in 1950 as a series of races. In 1955, the first true classic car won a race, and the annual event began to focus on vintage, antique and classic cars thereafter.
Over the past few decades, the races and events at Pebble Beach have made automotive history, with one driver get killed during a race and several posters for the show becoming exceedingly valuable collectibles. Bob Hope and Jay Leno have even been in attendance to entertain the crowds and Leno is expected to return for the 2018 show.
This classic-car event has evolved over the years to include other types of vehicles and workshops. In 1993, concept cars began to be included in the lineup, and it was in 1997 that the Pebble Beach Concours d'Elegance classes about car preservation began to gain popularity. New luxury cars are expected to win the show in 2018.
Concours d'Elegance
On the last day of the historic week-long event, the famous golf links of Pebble Beach open for the most famous of the events held at Pebble Beach. Since 1950, the Pebble Beach Concours D'Elegance has been showcasing the finest and rarest cars from all around the globe. The Financial Times even called the show "the number one event of its type in the world." Not only is homage paid to the collector cars displayed here, but there is usually a debut of the latest luxury cars worthy of mention at this historically significant show.
Unlike most car shows, the judges at the Pebble Beach Concours d'Elegance are not looking for speed or strength. Here, cars are judged by their elegance, beauty, history, originality and even the accuracy of the restoration or preservation to the cars' original condition. You'll find collector cars here, racing greats, and more. This year, the marques and special classes will include:
Motor cars of the Raj
Rollston Coachwork
OSCA
Tucker
Postwar Custom Citroen
Vintage-Era Sporting Cars
Eisenhower-Era Dream Convertibles
Tour d'Elegance
This leg of the Pebble Beach car show is legendary for celebrating the craftmanship that once went into making beautiful cars. The tour of classic and vintage cars begins in Pebble Beach but moves along in a parade that marks portions of the famous 17-Mile Drive before returning to Pebble Beach for a quieter display of artistry and Champagne toasts. If you want to hear the engines roar in these incredible cars, you'll want to witness this one-of-a-kind tour.
Motoring Classics
This event starts in Kirkland, Washington, with participants taking to the road for a 1,500-mile trip to the Lodge at Pebble Beach. It's a great way for enthusiasts to get their cars on the road and take in some unforgettably scenic backroads. For a package fee, participants will have the trip of their lives with all meals, accommodations and entertainment included.
So many car lovers hope to take part in this event that the venue requires entry applications to determine the quality of the automobile, which needs to have been manufactured before 1968 in order to be eligible. Only 30 cars maximum are accepted each year. If you own such a car that is in mint condition, it's certainly worth a try!
More at Pebble Beach
In addition to the events listed above, you can also visit the Pebble Beach RetroAuto, a curated collection of rare collectibles and memorabilia from Pebble Beach Concours' rich history. You'll also find luxury goods here and interesting driving gadgets.
If you're interested in hearing celebrities and experts speak about cars, there will be the Pebble Beach Classic Car Forum from August 23-25th at the Inn at Spanish Bay. Guests expected to attend this year: Jay Leno, Donald Osborne, Spike Feresten, Jerry Seinfeld and Wayne Carini. If you plan to attend, the featured session costs $85 and advance reservations are required if you are interested in hearing speakers and celebrities.
Auction Days are Friday and Saturday (August 24, 25). Admission is only $40 but it is $200 for a bidder registration, catalogue and admission for two.
If you can't attend the event this year but don't want to miss it, you can watch livestream of events:
Livestream of the Pebble Beach Concours d'Elegance 
August 26 at 2:00 pm
motortrend.com/pebblebeach
One-Hour Post-Show Special
September 2018 (Times TBA)
motortrend.com/pebblebeach
For more about the Pebble Beach car events, visit here. You can also buy tickets on the website.
Insurance
Many classic, antique and rare/collectible car owners know that regular Auto Insurance is not the right fit for a fabulous car. The people at Hagerty Insurance specialize in cars like yours, and they know what it means to protect something precious. Before putting your special automobile on a standard Car Insurance policy, call an AIS Classic Car Specialist to find out what kinds of Classic Car coverage are available for you: (888) 772-4247.
---
This content is offered for educational purposes only and does not represent contractual agreements. The definitions, terms, and coverage in a given policy may be different from those suggested here and such policy will be governed by the language contained therein. No warranty or appropriateness for a specific purpose is expressed or implied.