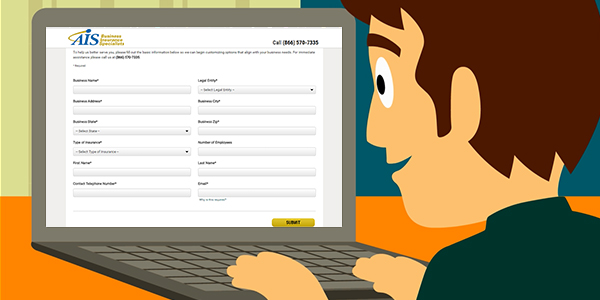 So let's face it. As much as all of us try to make things "as simple as one, two, three" for customers and ourselves, the truth is some things just take good work and attention to detail. This couldn't be any truer when it comes to things that pertain to our businesses. You also know the importance of a support system for your business regardless of the size and years of operation. This is when a seasoned professional is your designated hitter. For business insurance, this means a pro that knows the industry, relies on knowledge and experience and asks all the right questions.
"Why All the Questions For Business Insurance?"
During a conversation with one of our Business Insurance Specialists, Angela, I asked, "What's something, in particular, you notice from business managers looking for competitive quotes on businesses insurance?" To which she immediately responded, "Too often, business owners, especially new entrepreneurs feel nervous providing information or are unfamiliar with the quote process." This is common and understandable, as we know how unsettling shopping for business insurance can be, but the right questions will make all the difference. This is where pros like our Business Insurance Specialists shine by finding the best coverage at the best price and truly supporting businesses. A good agent, like our specialists, will be good at exposing your exposures. What does that mean? In other words, there may be areas in your business that are exposed to financial liability or loss that you are not aware of, so the quoting process will hopefully identify some of them. Uncovering these areas and providing you with adequate information will empower you to protect your business in a way that truly gives you and those you work with a peace of mind. Here are three important ways good questioning from our Business Insurance Specialist benefit you when shopping or renewing a business insurance policy:
1) Finding Adequate Coverage
While this may be less common with straightforward businesses, such as a carpet cleaning operation, other businesses may be more complex to describe properly, making it challenging to find an insurance company that covers your operations or getting the most competitive rate. For example, during an online search, an insurance company may try to categorize your line of business by asking you to choose from a list of categories. Some simply don't have the time to scroll through a long list; others may find it difficult to choose an option as they feel none of the categories completely represents their business, so they simply select "other". Another example commonly seen is that of a landscaper that primarily maintains yards in commercial and residential properties. When asked if they do tree trimming (which is an area of importance to insurance companies) they might say "yes" even if they don't. They could be saying "yes" because they think this will keep their options open if they decide to get into tree trimming in the future. In cases like these, our Specialists dig deeper by asking questions that get into the specifics of your business. By providing these specifics, we'll find coverage that best fits your business and budget; as you know, one size does not fit all. So, in the case of the landscaper, the recommendation there might be to simply state what the business does do and make any necessary adjustments later if needed, potentially saving on unnecessary premium.
2) The Cost of Premium
There seems to be an idea that the more information a business owner or manager provides when getting a quote for business insurance, the more expensive the policy quote will be. While some information may lead to price differences on an insurance premium, a specialist or agent isn't asking questions just to add items to your shopping cart and rush you to the checkout line. In fact, savings, protection, and opportunities are often missed because information is not included in the quote or adjustment process. This is especially true when the time to renew coverage approaches. Adding or removing coverage can bring a benefit to your business and your balance sheets, such as updating the vehicle fleet list, the details of your facility, description of operation, safety amenities, and more. Let's say that a certain adjustment actually does result in an increase in premium. It's important to know that many times an increase of a few dollars can make a huge difference on the limits of your protection. Is it really worth it to expose yourself to the loss of thousands of dollars just to save a few dollars?
3) Time (AKA Money)
On the surface, this is perhaps the most trivial reason but it doesn't take long to see how time wasted is no good for anyone; especially for you who's running a business and wants to make every minute as productive as possible. As an example, we'll use an exaggerated scenario from the future. Suppose Don runs a time-traveling company. It's his busiest time of year and he wants to explore his options with other insurance companies so he gives our Business Insurance Specialists a call. During the quote process, he provides the basic details of his business (name, type, address, years in business, etc.) Knowing that time travel is such a unique service, our Specialists asks Don if he has any special safety amenities in place for his business. Don suddenly remembers that he does! After all, he doesn't want to lose a customer back in the Dinosaur era. Great questions like these and others will save him time, as he won't have to worry about calling back and rewriting his policy when he remembers the additional details of his business.
We've all been in situations where details seem to escape us for the moment, and that's ok. A great agent will find those details and serve you better. When the time comes for you to explore your options for business insurance, remember that the questions you ask, and the questions asked of you are there to give you the best service possible.
If you are getting your feet wet in shopping for business insurance, let us help—we're swimming in it. Whether it's deciding what kind of insurance you need for a small business or wondering if you could benefit from a general liability policy, our dedicated Business Insurance Specialists are very knowledgeable in the insurance needs of businesses and are here to assist you. From a one-person operation to a larger company with many employees, we help businesses navigate the insurance process while helping them find the coverage and rate that best suits their business. Explore your options today.
---
This content is offered for educational purposes only and does not represent contractual agreements. The definitions, terms, and coverage in a given policy may be different from those suggested here and such policy will be governed by the language contained therein. No warranty or appropriateness for a specific purpose is expressed or implied.