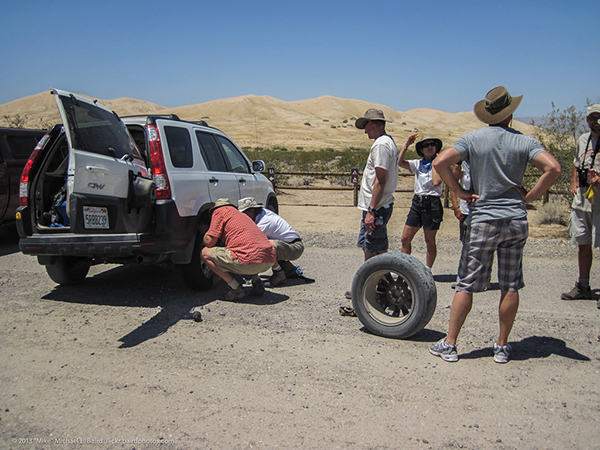 We all know why roadside assistance is a good thing, but did you know that roadside assistance for motorcycles, classic cars, RVs and other street vehicles is a really good idea too? Not only is it horrible getting stuck outside during winter but also in the blazing heat of the summer sun, late at night when you're all alone or just about any time you're far from home. Getting stuck along a busy road can be very dangerous too, and being stuck for a long time only increases your chances getting struck by an oncoming car. Many people buy a bare-bones policy hoping for the best only to find themselves out of gas or with a dead battery or flat tire. These are just the realities of owning and driving a car.
The best part of roadside assistance is that it's really a really cheap policy add-on. Even that one time you get stuck is worth the pennies a day that it usually costs to have this often overlooked coverage.
What Do You Get with Roadside Assistance?
Different companies offer different protection plans, but the following are some common types of coverage under roadside assistance:
Fuel delivery. Yes, you forgot to fill the tank and you find you ran out of gas in the middle of nowhere. You'll be happy you have this add-on and chances are it won't happen again (hopefully!).
Dead batteries. If your battery dies out your carrier will send out a professional to boost the battery and get you back on the road. If you need a new battery, you may have to pay your share, however.
Lockouts. Don't be embarrassed that you locked your keys in the trunk: This happens all the time. A lockout is one instance where roadside assistance is the quickest way to get those keys back in your hand all without destroying your car door.
Dead car. If your car dies and can't be restarted, you can't just leave it on the side of the road and Uber it back home. You have to take it home or to a garage right away. With roadside assistance, you are covered for towing but there may be a limit on the number of miles your car can be towed. There may also be a cap on how often you can use the service.
Flat Tires. Not everyone knows or wants to know how to change a flat tire. Instead of worry that you did it wrong while freaking out on the drive to the nearest garage, why not just have roadside assistance do it for you so you can go to the shop with the tire sale tomorrow?
Mechanical failures. Yes, they will come for any reason: your transmission fell out, your car over-heated, anything.
Make sure to ask your agent what your specific roadside assistance covers once you do elect to add it on to your policy. Not all plans are the same across different carriers. If you don't already have insurance or want to find better rates than the one you're paying, contact an insurance specialist at (888) 772-4247 and make sure to ask about adding roadside assistance to your policy. You'll be amazed at how little it costs. If you want to be extra protected in the event that you not only need assistance with your vehicle but possibly overnight lodging, ask about what emergency assistance packages different carriers have to offer.
---
The information in this article was obtained from various sources. This content is offered for educational purposes only and does not represent contractual agreements, nor is it intended to replace manuals or instructions provided by the manufacturer or the advice of a qualified professional. The definitions, terms and coverage in a given policy may be different than those suggested here and such policy will be governed by the language contained therein. No warranty or appropriateness for a specific purpose is expressed or implied.